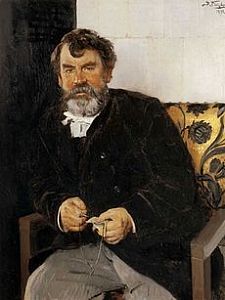 Yevgraf Semyonovich Sorokin (1821-1892) was a Russian artist and teacher, master of historical, religious and genre painting. Older brother of artists Pavel Semyonovich, Vasily Semyonovich and Raphael Semyonovich Sorokin.

Born December 6, 1821, in the town Bolshye Soli Kostroma province and County (now the village of Nekrasov in Yaroslavl region). The grandfather of the future artist, Timofey Andreevich (1776 -?), a merchant, in 1816 moved to the middle class. His father, Semyon Timofeyevich (1799—?), had 13 children, four of whom became artists.
Yevgraf Sorokin received his initial skills in art while working alongside the Yaroslavl iconographer I. F. Telegin, who painted the Church in Posad. Evgraf himself began to paint the walls of churches in Bolshye Soli, then in Yaroslavl, becoming known among customers.

Emperor Nicholas I at one of the exhibitions noticed the painting "Peter the Great at mass in the Cathedral" notices the portrait of a.m. Matveev drawing from it and anticipates a talented painter in it. Either the Russian autocrat liked the name, or the picture itself, or he also recognized the author of the picture — E. Sorokin-an outstanding artist. Only the story ended with the fact that the Emperor issued a decree on enrolling Yevgraf Semyonovich Sorokin as a student at the Academy of arts. And I was not mistaken, because E. Sorokin graduated from the Academy with dignity, received silver and gold medals, and in 1850 went abroad as a pensioner of the Cabinet of his Imperial Majesty.

Abroad, the artist paints many genre paintings from Italian and Spanish life. On his return to Russia (1859), he quickly became an academician — for the painting "Annunciation". For his work for the Cathedral of Christ the Saviour in Moscow, he received the title of Professor of historical painting (1878).
By this time, he had worked as a teacher at the Moscow school of painting, sculpture and architecture. Academic education naturally affected the style of E. S. Sorokin. His paintings are well-composed, cleanly written and evoke a well-deserved respect for the master's talent.