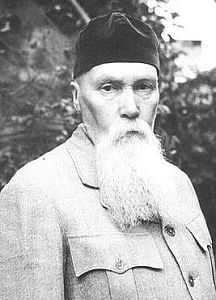 Nikolai Roerich (Roerich) (September 27 (October 9), 1874, Saint Petersburg-December 13, 1947, Naggar, Himachal Pradesh, India) was a Russian artist, set designer, mystic philosopher, writer, traveler, archaeologist, and public figure. Academician of the Imperial (Russian) Academy of arts (1909).
During his life, he created about 7,000 paintings, many of which are in famous galleries around the world, and about 30 volumes of literary works, including two poetic ones. Author of the idea and initiator of the Roerich Pact, founder of the international cultural movements "Peace through culture"and" Banner of Peace". Recipient of several Russian and foreign awards.
Russian Russian period of life and work involved in archeology, collecting, as an artist successfully exhibited, participated in the design and painting of churches, worked as Director of the school of the Imperial society for the promotion of arts, headed the art Association "Mir iskusstva", successfully worked as a set designer ("Russian seasons"), actively participated in projects for the protection and revival of Russian antiquity, in the activities of charitable organizations.
Since 1917, he lived in exile. Organized and participated in the Central Asian and Manchurian expeditions, traveled a lot. He founded the Urusvati Institute of Himalayan studies and more than a dozen cultural and educational institutions and societies in various countries. He was active in public life, was associated with political and economic projects, and had connections with the Bolsheviks and Freemasonry.
He was a member of many organizations. He was married to Elena Roerich. He had two sons-Yuri and Svyatoslav.
Since the 1920s, there have been Roerich societies and museums around the world. Communities of followers of his ideas and religious and philosophical teachings Living ethics (Agni yoga) form the Roerich movement. Roerich's ideas had a significant impact on the formation and development of the new age in Russia