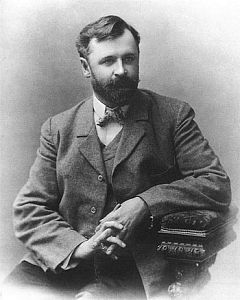 Russian Russian painter (one of the first Russian Impressionists), theater artist, teacher and writer Konstantin Korovin 1861-1939. Brother of the artist Sergey Korovin.
He was the grandson of the old believer and merchant of the first Guild Mikhail Emelyanovich Korovin, whose house was often visited by the famous wanderer Illarion Pryanishnikov. Konstantin's father received a good University education, but could not save the family's fortune and went bankrupt. The Korovin family was forced to move to the village of Mytishchi (near Moscow).
The Korovin brothers (Konstantin and Sergey) owe much of their artistic abilities and good education to their mother, a noblewoman by birth, Apollinaria Ivanovna (nee Volkova). The ruin of her husband, moving to the country, living in poverty-all this did not stop the desire of an educated woman to raise her sons.
Despite almost complete poverty, Konstantin follows his older brother and enters the Moscow school of painting, plunging into the environment of famous Russian painters.
After visiting France, Konstantin Korovin begins a new stage in his work, he admires the works of the Impressionists, their technique of transmitting color, sensations of tones. During his trip to the Russian North, Konstantin is fascinated by its beauty and works hard - the Northern nature, colors, air, and rapid change of weather are completely combined with Korovin's vision of impressionism. Each of his Northern studies is an experience. His works of this period were noticed personally by Pavel Tretyakov. He gets the painting "Winter in Lapland".
For many years, Konstantin Korovin has been actively involved in Russian artistic life-participating in various circles, exhibitions and associations. He teaches at the Moscow school of painting. During the first world war, Korovin worked as a consultant for the army on camouflage issues.
The October revolution of 1917 did not affect the artist, he remained in Russia (since Korovin was from the village and comes from a poor family). He was engaged in the preservation and accounting of art monuments, organized auctions and exhibitions. But in 1922, he went abroad, moved to France, and settled in Paris. Where he lived the rest of his life.